Need urgent help with your keys or locks?
Vancity Locksmith Offers 24 hours, Mobile Emergency Locksmith Services Anywhere in the Lower Mainland
We can help you with any of the following:
Key Duplication
Lockout service for your home, business or car
Car door lock repair, car key replacement, and car lockout
We understand that emergencies happen when you least expect them. It doesn't matter if you are locked out of your home or business late at night or need to install new locks immediately after an unfortunate experience; Vancity Locksmith has an affordable solution for you. Hundreds of satisfied clients have supported our work throughout the years. Our professional locksmiths don't overcharge and provide effective, courteous service.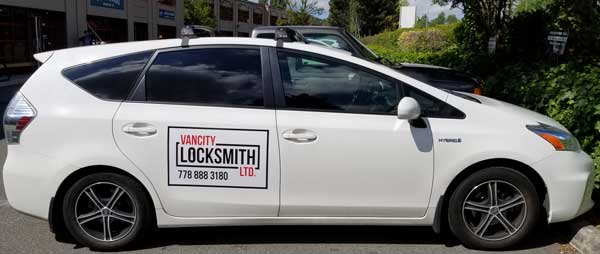 Emergency Locksmith For Your Home
Your home should always be a safe haven for you and your family. In the adverse circumstance where your home has been the target of a break in or your locks have been damaged, Vancity Locksmith knows how vital it is to provide a timely response so that your peace of mind is restored as soon as possible. We believe you and your family have the right to feel safe and we will do anything we can to help you, no matter the time or day of the week, at an affordable price.
We can also rekey your home's locks, install new ones, duplicate your keys or repair damaged hardware.
We're also here to help if you've been locked out of your home. We know this situation can be very frustrating, especially when it happens late at night! At Vancity Locksmith, we understand emergencies, and we'll get you back inside immediately, at an affordable price.
Emergency Locksmith Services For Your Business
We understand the importance of keeping your business property secure at all times. We also know that sometimes the unexpected happens in the middle of the night, or during a statutory holiday! -Don't worry we are here for you.
Vancity Locksmith delivers efficient emergency locksmith services 24-hours a day, seven days a week, anywhere in the Lower Mainland. Whether you've been locked out of your business premises, have a damaged lock, need to rekey your locks immediately, or have an unfortunate break in, we have a solution for you. Our priority is to get you back in business, as well as to restore your business' productivity and security.
Emergency Locksmith For Your Vehicle
Whether you've lost your keys or your car door locks have been damaged, Vancity Locksmith can help you get inside your car and continue driving! -We understand emergencies happen at any time during the day or night. We have extensive experience working with different car models and can almost always provide a solution to your emergency. In the event that we can't give you results, our professional locksmith will suggest other options. Either way, you can trust us to help out!
Some of the emergency services we provide are:
Car key replacement
Car door lock Repair
Ignition Switch repair
Key fob battery change
How much will my emergency cost?
Our goal is to provide you an estimate over the phone that doesn't differ much from the final price. We will ask you a few questions to help us understand your emergency better. Whenever possible, we will ask you to send us a picture of your lock. This will allow us to be as accurate as possible and avoid any unpleasant experiences.
What You Can Expect From Vancity Locksmith
No Surprises
We will explain to you what needs to happen to solve your emergency. If your lock needs to be replaced, we will suggest the one that better suit your needs and budget.
Friendly and Professional Service
A member of Vancity Locksmith will arrive at your home or business on time and will provide courteous and professional service.
You can trust Vancity Locksmith to help you out in an emergency. We offer 24-hour emergency locksmith services, without overcharging you. Our goal is to keep your home or business secure.