Looking After The Security Of Your Business
Vancity Locksmith offers 24 hours, mobile commercial locksmith services in the Lower Mainland:
You need to be focused on growing your business, not worrying about break-ins and their consequences. A simple way to prevent a commercial setting from being burglarized is to have a state-of-the-art locking system that makes your business invulnerable, protecting your assets and giving you peace of mind.
Let the experts at Vancity Locksmith take care of the security aspect of your office or shop. We provide mobile services 24-hours a day, seven days a week to commercial properties of all kinds in the Lower Mainland. If  you are a business owner or the person responsible for a retail store or warehouse- contact us today to find out what kind of security system is most suitable for the needs and budget of your business.
Commercial Grade Locks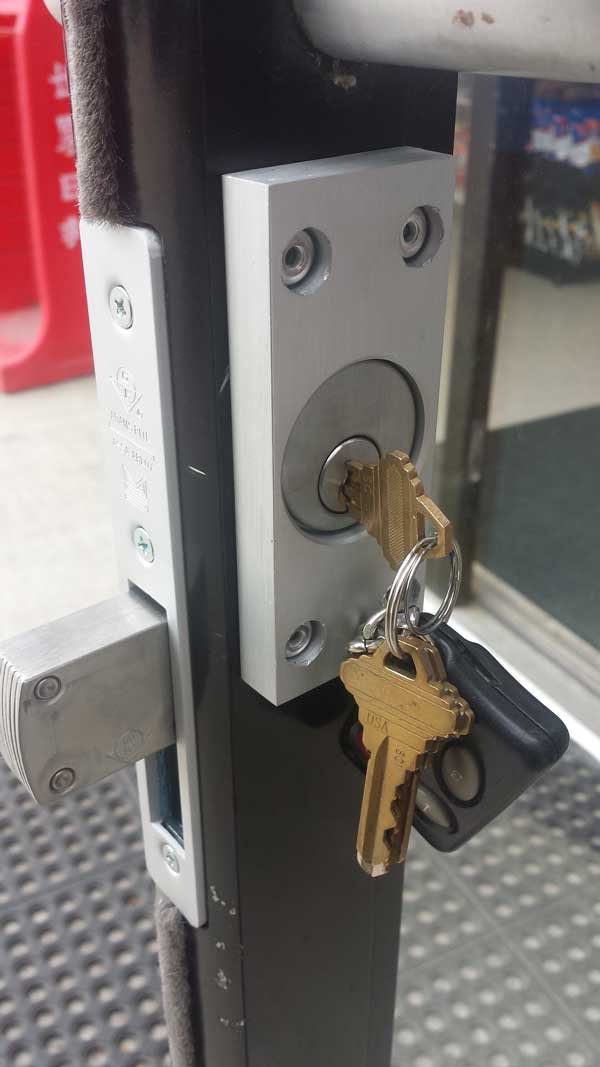 A high-security lock is a great alternative to increase security in commercial properties. Our high-security locks comply with the necessary security ratings and help discourage any intruder from trying to break into your property. Our commercial locks are designed to withstand lock-picking and decoding attempts, as well as key bumping.  Our commercial mobile locksmith services include the installation of high-security mechanisms for business clients. If you'd like to learn more, call us now at 778. 888. 3180. One of our professional locksmiths will advice you on the best high-security solutions for your business. Don't wait for an unwanted occurrence to  happe upgrade your locking system today!
Access Systems
Vancity Locksmiths provides a wide array of access mechanisms so that you can have more control over your commercial property while considering the particularities of your business. Whether you are looking to create a master key for more convenient access to your facilities or commercial grade hardware to increase security, our experts are always ready and equipped to help you.
Some of the access systems and related services we provide are:
Duplicate keys
Master keys
Access control
Lock repair
If you want to find out more about access systems, we can advise you and give you an estimate for the best alternatives, based on your particular situation.
Lockout and Commercial Locksmith Emergency Services
Not only would an issue with a lock be a huge inconvenience, it would also have a negative impact on the daily operations of your business. Our Vancity Locksmith staff are trained and equipped to deal with all sorts of emergency situations, while minimizing downtime, as we understand how important it is for you to keep your business running. Our mobile units are ready to respond quickly to your emergency, 24-hours a day, any day of the week.
Commercial Safes
Security doesn't stop at your doorway. Sometimes you may want to have valuable possessions or documents within reach, yet stored under the highest security standards. The right safe will protect your documents and other belongings from theft or damage, therefore protecting you from financial loss and other potential inconveniences.
We offer a wide variety of safes for commercial clients. In addition to helping you select a safe suitable for your business setting, our experienced staff can also open, repair or change the lock combination in an existing safe.
What You Can Expect From Vancity Locksmith

A Vancity Locksmith representative will give you an estimate over the phone once you have explained your situation. You can rest assured that you will not be overcharged.
Friendly 24-hour services
A member of Vancity Locksmith will quickly arrive at your home or business to provide a professional service any day, any time.
At Vancity Locksmith, our priority is keeping your business safe. Call us now at: 778. 888. 3180 and;  we'll be sure to provide an accurate estimate over the phone, as well as fast and reliable service to all of the Lower Mainland.